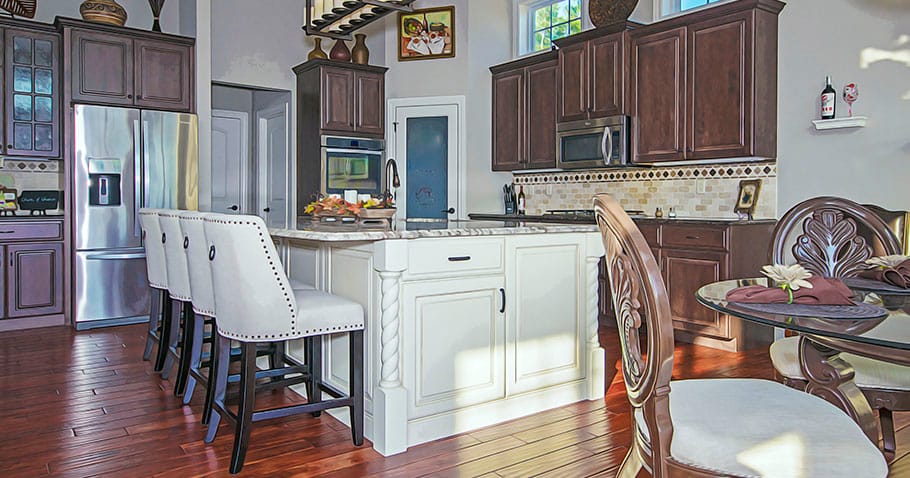 What Are The Countertop Colors That Match With Brown Cabinets
The debate about either to choose your countertop first or the color of your cabinetry is never-ending. Quartz countertops, cabinets, and the flooring are the most visible part of your kitchen. And out of them, countertops are the most expensive ones. So logically, you should choose them first.
But if there's no right-or-wrong, you can choose first whatever you want. Most of the homeowners select their cabinet color first and then contrast them with countertops. However, having thousands of options in countertops and hundreds of choices in cabinet colors makes it difficult for one to choose the right contrast. Worry not, this guide will help you choose right, according to your taste and style of your kitchen. So, get the info you need here to design your kitchen in a better way.
You can choose matching, contrasting, or neutral looks for your kitchen cabinetry and countertops, it's all up to you. The following guide is for contrasting brown cabinets (dark cabinets) with different countertops.
Contrast Brown Cabinets With White Countertops
If you're not an experimenting person or afraid of dark colors, you can choose white color countertops for your brown cabinets. Also, installing light color countertops with dark brown color cabinets will balance the overall look of your kitchen.
Having crisp white color cabinets in your kitchen will give it a more modern look. This color goes with both modern as well as traditional cabinets. Moreover, white color cabinets are in trend for modern looking kitchens. They give a sensational, stunning, and beautiful look to your kitchen.
And, if there's further patterns on the countertop, such as mottling in different colors, it will add more variety. All in all, white countertops are a great choice for modern looking kitchens.
Contrast Brown Cabinets With Light And Creamy Countertops
There's one thing for sure, the risk is less when you go with lighter colors instead of darker ones. Also, there's no doubt that no cabinet color looks more elegant and prestigious than dark brown color. So, if you've already chosen brown cabinets, then go for light creamy colors.
In light colors, you can choose the white color. But, if you don't want to go for a dull look, neither for a too bright look. Then for sure, go for creamy color countertops, such as beige colors. Moreover, creamy colors give your kitchen a subtle look, making it look more expensive yet simple.
Also, there are darker tones in beige colors, as well. So, you still can choose dark while choosing light colors. The variety of options is wide, and the choice is yours.
Contrast Brown Cabinets with Gray Countertops
If you want to give more traditional looks to your kitchen, then go for gray color countertops. As the brown looks dark and warmer, the gray color looks light and cooler. This way, you can balance the color tones in your kitchen in a much more subtle way as compared to white kitchen countertops.
Also, the gray color looks gorgeous with walnut and hard maple dark-stained cabinets. It somehow goes matching with dark color cabinets and makes a great contrast.
Moreover, being more experimental, you can go with darker hard shades of gray as well, it'll not look bad. Go with the shades that are darker, but not close to black. And having more colors and veining on the gray slabs will definitely add more variety.
Contrast Brown Cabinets With Gold, Yellow, Or Light Brown Countertops
Contrasting neutral shade countertops with dark cabinets is a breath-taking combination. And this contrast enhances further when you choose a simple design for the cabinets. A majority of homeowners pair their dark cabinets with gold, yellow or light brown countertops. This contrast looks better than any other pairing, except a few exceptions.
Plus, if you'll choose the exactly suggested color palette, the chances of your disappointment will be less. These neutral gold color slabs look wonderful when contrasted with dark cherry or espresso cabinets.
Final Word
No doubt contrasting between two different shades is a daunting task, when you have many great options. Keep the overall look of your kitchen in your mind and then select. Also, this guide will be much help to you to be clearer about your choice. Ask a quartz countertop Rockville for popular quartz colors to make an informed decision.