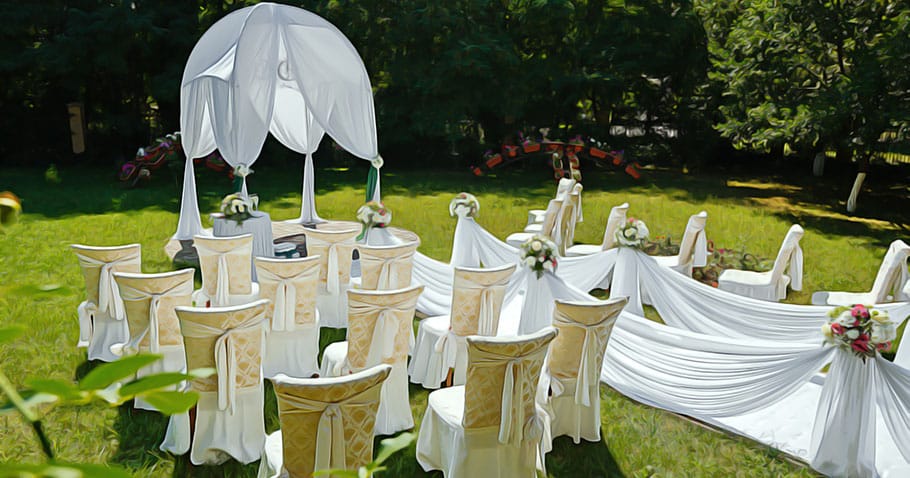 How Do You Plan A Wedding On A Low Budget?
With tons of low ideas over the internet, a low budget wedding is not a big deal. Several social media platforms like Facebook, Pinterest, and Instagram are flooded with inspirational stories from couples who have planned their wedding under a low budget. The real essence of these weddings is discipline, budgeting, and work. The more you involve these three with the right vendors and wedding tent rentals, the more controlled your expenses will be.
In order to have a low budget wedding, you can gather inspiration from the following pointers.
We hope you gather enough inspiration to chalk out your main day accordingly.
Limit Your Wedding Guest List To Control Your Expenses
If you want to spend as little as possible on your wedding day, the foremost thing to do is to limit your attendees. Cutting off loved ones from your list is no good idea but including them would do you no good either.
Keep the wedding guest list limited to parents, grandparents, siblings, and close friends from both sides only. This is the only way to close the parenthesis; otherwise, you will land in hot waters and be blamed for choosing favorites.
Look For Wedding Dresses At A Bargain
Another milestone you can set for yourself is to have dresses that don't crash with your budget limitations. Many brides opt to wear their mother's dresses or borrow one from their friends. There's absolutely no harm in doing so, till the point where the significant other is comfortable with it.
Instead of spending heavily on the bridesmaids and best man dresses, you can ask them to wear whatever clothes they own. You'll lessen your hassle and expenditure simultaneously. A lot goes into planning their dresses too.
Choose Low Budget Wedding Caterers
Many wedding or party venues come with their catering services. Despite the services these catering companies provide, the only point of concern is that the food is usually quite bland. Their services don't equate with their taste, that too with a bulky price tag. Some may even charge you up to a hundred dollars per person.
You can ease your discomfort in this aspect by hiring the services from any restaurant you prefer. They are much cheaper than caterers. And you can pay them additionally for any extra services like dishes, cutlery, linen, the cleanup that you want from them. You can have an awesome meal at a much affordable cost.
If you want to give your wedding a personal touch, try preparing the meal yourself. Ask your friends or family to assist you. Take my word; they will be more than happy to assist you. For the dessert, take help from any local baker or best take help from your mother or grandmother to bake a cake for you. This way you can treat your guests to clean and delicious homemade food; ticking the box under a low budget.
Plan Your Wedding
Since it is your big day, step forward, and take all the wedding planning details in your hand. You can download a wedding checklist or wedding planner from the internet. They will help you keep track of all the minute details; saving you from any last moment surprises. Despite the fact that professional wedding planners charge a ton for their services, they keep your worries at bay.
But as you are planning a low-budget wedding, it's best to keep things as simple as you can.
Have Your Own DJ
In view of the fact that it is your wedding, and you plan to sail in shallow waters, you should also go for your own DJ. In today's world of personalized playlists who needs a DJ anyway. Fast forward and you can even ask Siri or Alexa to be your DJ for the event.
Track All Your Details
To stay under a budget, you should keep a tab on all your expenses and track all the details. You don't want to let things out of your hand. Keep a solid check on every dime that you spend.
By following the tips mentioned above, you can surely plan your wedding under a limited budget that won't sweat your brow. Hire the right people such as decorators and party rentals Rockland NY to ensure an enjoyable wedding.